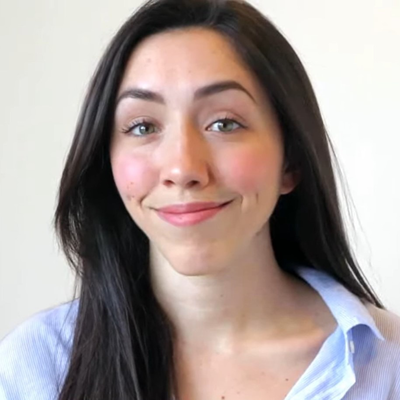 Sobre Sol Madariaga:
Hello there!
My name is Sol Madariaga and after residing for 7 years in the US, where I graduated Cum Laude with a Bachelor of Fine Arts from The University of The Arts Philadelphia, PA, I returned to Argentina, where I continued to hone my social, leadership and problem-solving skills in creative and dynamic environments.
I currently work as a freelance translator and voiceover actor in my spare time. A little bit about the profile you would be adding to your team:
Leadership skills 
Creative and detail-oriented 
Collaborative and flexible 
Efficient under pressure 
Introspective and perseverant
I had the pleasure of developing my career within the East Coast theatre scene in live event management, hospitality, and customer service roles, where I perfected my team-building and leadership skills. The Wilma Theatre, Philadelphia Theatre Company, The Kimmel Centre and Philadelphia Young Playwrights are amongst the companies at which I have had the opportunity to grow professionally, thanks to their dynamic environments.
Experiencia
Work History
Assistant Project Manager - Gordon James Realty - Washington, DC. USA. (Remote) 2021.
Proactive, detail-oriented position with tight deadlines, where problem-solving and multitasking skills were honed through the coordination of multiple project management, internal and external vendors, correspondence handling, and research assistance on higher-level management projects. 
Guest Services Manager - The Wilma Theatre - Philadelphia, PA. USA. 2019 to 2020.
Supervised and monitored the entire front-of-house team through precise leadership skills that ensured shows ran smoothly on time, and with audience satisfaction. Developed strong communication and line reporting procedures to guide service implementation making improvements or changes where required.
Audience Services Associate/Guest Services Manager - Philadelphia Theatre Company Philadelphia, PA. USA. 2018 to 2020.
In charge of daily sales and subscription telemarketing calls, as well as personal secretarial duties to the Rental Events Coordinator. Provided subscribers with an excellent customer service experience, and perfected communication and time management skills. 
Customer Service Associate - Merriam Theatre, Kimmel Center - Philadelphia, PA. USA. 2015 to 2021. 
Proficient guest service, administrative and follow-up skills during the annual theater season. Fast-paced environment where multitasking and problem-solving skills were honed. 
In-Classroom Actor - Philadelphia Young Playwrights - Philadelphia, USA/2018-2021. 
Assisted as In-Classroom Actor and Teaching Artist in Play Development Series, Festival Readings, Classroom Monologue Tours, intensive writing residencies where student dramaturgy was professionally workshopped and performed (by In-Classroom Actors) to assist in the revision process.
Teaching Artist (Drama Club) - Theatre Horizon - Philadelphia, USA. 2018. 
Led a weekly bilingual after-school theater program aimed at familiarizing students with the early stages of acting, theater development and play construction.
Art, Music & Theatre Teacher - Mighty Writers School 'El Futuro', 'Mighty Toddler' Program - Philadelphia, USA. 2017.
Led a weekly bilingual (English) art, music and theater program with the goal of exploring early writing practices, reading and a basic understanding of play.
 
Administrative Assistant - The University of The Arts - Philadelphia, PA. USA. 2015 to 2016.
Assisted the International Students Office with daily clerk tasks. Collected, recorded, and maintained student information, such as reports, and examination results. Managed and planned the Office's student events.
Currently…
Since returning to Buenos Aires after the pandemic, I've dived into the Voice Recording industry, where I've been working for American audio publishing houses as an audiobook voiceover narrator! I also work as a freelance English-Spanish translator.
Educación
Education
Bachelor of Fine Arts - The University of The Arts - Philadelphia, PA. USA 
Musical Theatre - Graduated with Honors 
High School Diploma - (International Baccalaureate) - St. George's College North 
Buenos Aires, Argentina. 3.70 GPA
Profesionales del mismo sector Turismo / Viajes / Hostelería que Sol Madariaga
Profesionales de diferentes sectores cerca de Buenos Aires, Buenos Aires C.F.
Otros usuarios que se llaman Sol
Trabajos cerca de Buenos Aires, Buenos Aires C.F.
---

Emprego

Buenos Aires, Argentina

We are looking for a Senior UI/React Developer to join our client team · Qualifications: · 623 Bachelor's degree in computer science, systems, software engineering or related fields(preferably). · 623 ...

---

Emprego

Buenos Aires, Argentina

Importante PYME de Oeste se encuentra en la búsqueda de · ELECTROMECÁNICO para reparación de AUTOELEVADORES ELECTRICOS Y ZORRAS ELECTRICAS · Se requiere · Experiência comprobable · - de equipos móvile ...

---

Emprego

Buenos Aires, Argentina

Nos encontramos en la busqueda de un perfil de Desarrollador/Programador. · NET de aplicaciones de escritorio (Desktop). Sera necesario contar con conocimiento de lenguaje C y SQL server, arquitectura ...